Minority Voters Could Have a 'Cascading Effect' on Elections in These States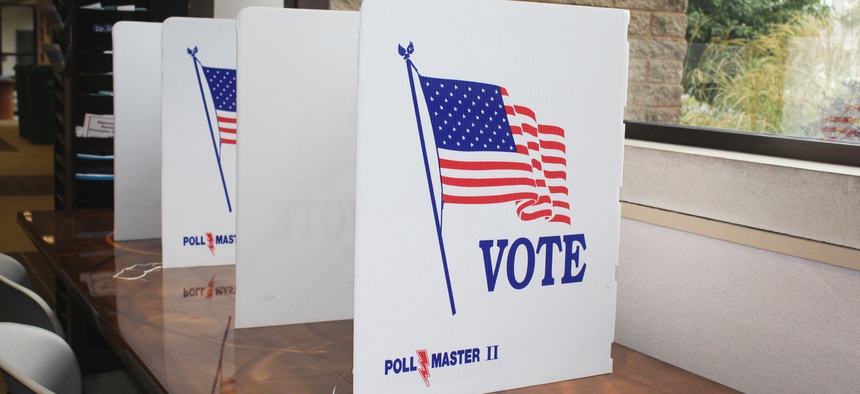 But both political parties historically have been ineffective at engaging people of color.
WASHINGTON —  The 2018 midterm elections feature a record-setting number of black Democratic gubernatorial candidates and at least two contenders are expected to boost minority turnout to levels large enough to possibly swing down ballot races next week on Election Day.
Tallahassee, Florida Mayor Andrew Gillum and Georgia former state legislator Stacey Abrams are both running against "extremely unlikeable, at least in black communities, nominees," said Michael Fauntroy, associate professor of political science at Howard University, during a Brookings Institution panel discussion on minority voters. The third black gubernatorial candidate this election season, Ben Jealous, faces an uphill climb to unseat Maryland's popular Republican governor, Larry Hogan.
New York's attorney general race also features two black candidates, who could have the same "cascading effect" down ballot, he added.
"We are perhaps in the first midterm election, even including the one between the Obama elections, in which minority voters will actually determine some really big questions," Fauntroy said.
Neither political party can afford to ignore people of color anymore, said Christine Chen, executive director of Asian and Pacific Islander American Vote.
APIA Vote conducted its biannual, in-language Asian American voter survey in September and found 76 percent of respondents planned to vote. The positive response was even higher for some voters, with 80 percent of Indian Americans and 86 percent of Japanese American respondents saying they would vote.
"Democrats should be catering to the Asian American voters because, according to the polling, they also have an advantage when it comes to the issues," Chen said. "And also, in the Senate races, 50 percent of the voters that were surveyed are looking at voting for the Democrat."
A quarter of Asian American voters surveyed remained undecided, she added.
Asian American voters are by no means a "monolith," said Frederick Harris, dean of social science at Columbia University. Vietnamese and Filipino voters have historically leaned Republican, Chen said, while Chinese voters, who once leaned Democrat, tend not to identify with a party more recently.
Jobs, education and, uniquely, gun control are key issues for Asian American voters with 71 percent supporting increased restrictions on firearms and those numbers even higher among immigrant voters.
Similarly, Latino voters span the political spectrum but are often dismissed as unlikely voters. Lost in the Democratic Party's overwhelmingly anti-Trump messaging were positions on health care, the economy and education—things Latino voters care about, said Kimberly Atkins, Washington bureau chief for The Boston Herald.
President Trump has spent the last leg of campaign season raising alarm about a group of 3,500 migrants from Central America making their way toward the U.S. border in a bid to flee gang violence and poverty.  
The president also tweeted a warning to people considering voter fraud, despite numerous studies finding the problem virtually nonexistent, which his critics saw as an attempt to intimidate Latino voters worried their undocumented friends or loved ones would be targeted in retaliation for them turning out on Election Day. Trump's immigration rhetoric "is instilling a  sense of fear within that population," Harris said.
"Midterm elections are a referendum on the policies of our president," he added. "And the Trump presidency has engendered a great sense of divide in our country."
On the flip side, the Trump administration's policies on immigration, health care, affirmative action and the census—as well as the president's near-constant campaigning—have kept liberal activists from taking their typical break between election cycles. As a result, those groups' volunteer recruitment efforts have become more sophisticated, Chen said, and in states like Georgia special elections and primaries have led to "more diverse political infrastructure" than had been seen previously.
In Nevada, both Republicans and Democrats are courting the Asian-American vote and, in particular, Filipinos. Meanwhile, in Houston, Democratic House candidate Sri Kulkarni is campaigning in 16 languages.
"He was not expected to win the primary," Chen said.
As of Thursday afternoon, 24 states reported exceeding the total number of mail and in-person advance ballots cast in 2014, but early voting isn't common practice among undecided voters and hasn't yet been extrapolated to determine minority voting patterns.
Polling is more complicated now than in the past because younger generations don't rely on landline phones and are, thus, harder to reach.
Young voters are "the most unreliable voters," Fauntroy said, but they may prove a key piece of a "blue wave" on Nov. 6 if they recognize the importance of the midterms.
"My 18-year-old freshmen were eight years old when Barack Obama was first elected president, and their whole understanding of American politics is not in any way connected to what the history of American politics has been," he added. "And for many of them, they don't understand why things are the way they are, and for them it's a bit of a reckoning."