Uber Irks Pittsburgh's Mayor With Its Autonomous Vehicle Testing Announcement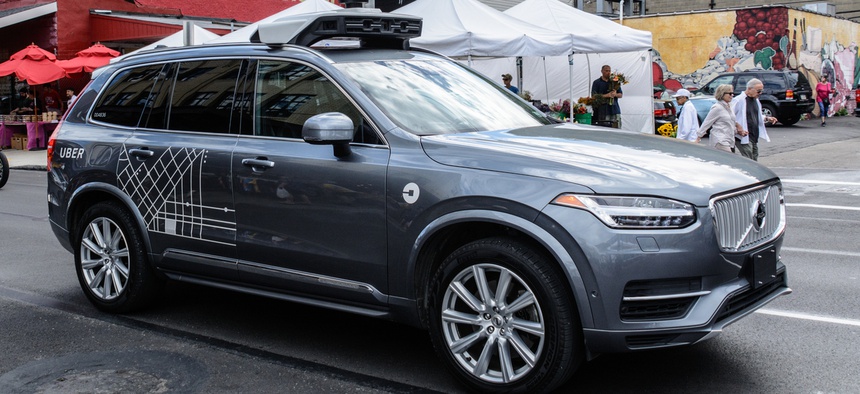 STATE AND LOCAL ROUNDUP | Milwaukee mayor, police chief apologize after Bucks incident … Delaware lawmakers OK state worker bonuses … and N.Y.C. mayor thinks plastic straws suck.
Here are state and local government news stories that caught Route Fifty's attention ...
Pittsburgh, Pennsylvania: With Uber shutting down testing of its autonomous vehicles in Arizona following a deadly crash where a pedestrian died, the company announced that it plans to resume testing in Pittsburgh this summer. But Mayor Bill Peduto is less than pleased. "I made it clear to Uber officials after the Arizona crash that a full federal investigation had to be completed, with strong rules for keeping streets safe, before I would agree with the company to begin testing on Pittsburgh streets again," Peduto said in a statement, noting that he didn't learn about Uber's intentions in Pittsburgh from the company, but from social media, which he noted "is not the way to rebuild a constructive working relationship with local government, especially when facing a public safety matter." Peduto's administration laid out requirements Uber needs to meet before the city would support the resumption of tests, including prohibiting its autonomous vehicles from traveling faster than 25 mph, even if a roadway has a higher speed limit. [City of Pittsburgh]
Dover, Delaware: State lawmakers who sit on the Joint Finance Committee approved a plan this week that would give state workers a $500 bonus in addition to the pay raises already approved by Gov. John Carney. In all, the bonuses would amount to $23 million. "Our state employees lag way behind in the region," according to state Sen. Harris McDowell. "We felt it is time, since we have a little leeway in terms of resources, that we make up for that." [The News Journal / DelawareOnline]
Milwaukee, Wisconsin: Following the release of police body camera video showing January's controversial arrest and tasing of Milwaukee Bucks basketball player Sterling Brown, Mayor Tom Barrett on Wednesday apologized and said that "as a human being I am offended by what I saw on the video. As a mayor I am committed to improving police-community relations." Police Chief Alfonso Morales also apologized. "I am sorry this incident escalated to this level." Three officers involved in the incident have been disciplined, though Morales would not say what action was taken by the department. [WTMJ-TV; Milwaukee Journal Sentinel]
Los Angeles, California: In order for hospitals to not be excluded from Covered California, the state's health insurance exchange, they "must perform fewer unnecessary cesarean sections, prescribe fewer opioids, and cut back on the use of imaging (X-rays, MRIs, and CT scans) to diagnose and treat back pain." The requirements are aimed at curbing certain problematic hospital practices, including performing too many C-sections. [KPCC / Southern California Public Radio]
Boise, Idaho: State lawmakers approved a plan that would transfer land in Boise's east foothills, which had been eyed as a site for a governor's mansion, to the city. Local officials plan to use the 15-acre property as parkland. When the property was transferred from the U.S. Bureau of Land Management to the state in 1981, the deed required the land be used for a governor's residence or a park. Idaho's current governor, Butch Otter, lives on his ranch in Star and receives a $4,500 per month housing stipend. [Idaho Press-Tribune]
New York City, New York: While he said that he hasn't reviewed legislation introduced in the New York City Council that would ban plastic straws, Mayor Bill de Blasio said Wednesday that he likes the idea. "We don't need them. For a long time we had paper straws; the world went along just fine." [New York Daily News]
Oakland County, Michigan: This county's annual spring auction, held this past weekend, "featured over 70 vehicles, boats, bounce houses and electronics" and raised $550,000, which will be given to county departments that donated auction items. That includes a 2015 GMC Yukon, formerly driven by Sheriff Mike Bouchard, which brought in $31,500. [The Oakland Press]