More Than 200 Still Missing as Wildfire Death Toll Rises in Northern California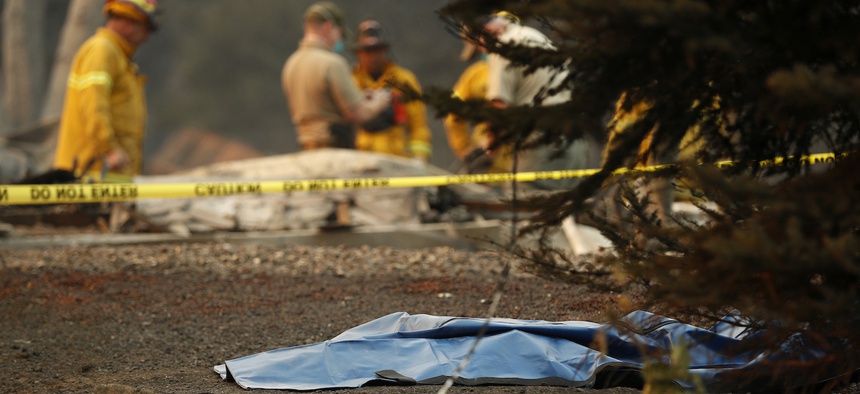 STATE AND LOCAL ROUNDUP | Short-term rental crackdown in N.Y.C. … 'Michigan left' turns to expand in Tucson … and a small town's big sewage leak.
Good morning, it's Monday, Nov. 12, 2018, Veterans Day (observed). The grim news out of the California wildfire frontlines leads Route Fifty's state and local government news roundup but scroll down for more news from places like Little Rock, Arkansas; Hollywood, South Carolina; and Tucson, Arizona.
CALIFORNIA WILDFIRES | After a destructive and deadly weekend in California from the massive wildfires in the northern and southern parts of the state, authorities expect the death toll to rise in the coming days. On Sunday, authorities in Northern California confirmed that at least 29 people had died from the Camp Fire in Butte County, north of Sacramento, which has burned upwards of 6,700 structures and destroyed nearly all of the city of Paradise late last week. There are 228 people still missing or unaccounted for in what has become California's most destructive wildfire on record. "I'll tell you, it's very, very hard," Butte County Sheriff Kory Honea said. "One of the things that I saw when I was up there is that there is so much debris in some of these areas that it's very difficult to determine whether or not there might be human remains there." [Los Angeles Times; Chico Enterprise Record]
LODGING | Law enforcement officials in New York City "swarmed" a midtown Manhattan condo building last month and issued 27 citations for unauthorized short-term rentals, one of the largest such regulatory crackdowns. [The Wall Street Journal] … The city of Little Rock, Arkansas has joined a class-action lawsuit that seeks to "allow the city to collect unpaid taxes from the Internet rental of hotel rooms, and its tourism agency plans to do the same." [Arkansas Democrat Gazette]
WATER | When Michigan's recently elected governor and attorney general take office in January, they plan to push for changes to the state's agreement with Enbridge over the replacement of the aging dual "Line 5" oil and gas pipelines through Straits of Mackinac, which separate the Upper and Lower Peninsulas. [Detroit Free Press] … In Hollywood, South Carolina, the small town's sewer system has been crumbling and leaking millions of gallons of raw sewage into local waters, closing Charleston-area shellfish beds. And it's unclear when the problems will be fixed. [The Post & Courier]
PUBLIC HEALTH | The number of Virginians using opioids has decreased as has the number of drug overdoses, according to reports from state health officials. [Roanoke Times] … In Vermont, an "examination of records recently made available by the state showed regulatory violations involving 18 mental health patients at six hospitals cited in inspections performed over the past nine months." [VTDigger]
TRANSPORTATION | State officials in Missouri are back to square one trying to figure out how to properly fund transportation projects after voters rejected a gas tax increase last week at the polls. [St. Louis Post-Dispatch] …  Streetcars have returned to El Paso, Texas after an absence of 45 years. [El Paso Times] … In Tucson, Arizona, the Pima County Transportation Department is introducing more "Michigan left" turns at intersections where drivers avoid making a direct left turn. [Arizona Daily Star]
PARKS AND RECREATION | About 70 percent of hiking trails in Idaho are in a state of disrepair. [Boise State Public Radio]
MUNICIPAL BATTLES | City leaders in Pelahatchie, Mississippi, located east of Jackson, are engaged in "a seemingly unending tit for tat" where the latest flashpoint is the mayor pursuing legal action against two aldermen and the town clerk. [Clarion Ledger]