North Carolina Warns of Post-Storm Waze Errors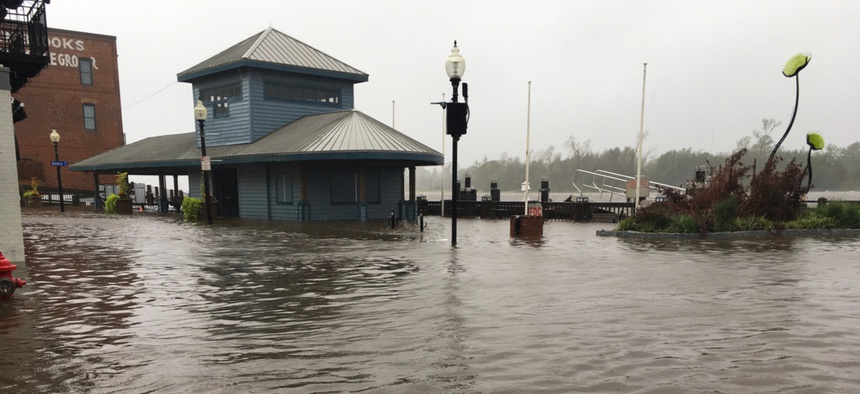 STATE AND LOCAL ROUNDUP | Flea infestation in a Maryland state office building … New Orleans surveillance camera expansion … and a mayor's unlawful city stationery use.
Good morning, it's Wednesday, Sept. 19, 2018. Florence's floodwaters lead Route Fifty's state and local government news roundup but scroll down for more stories from places like Florissant, Missouri; Anne Arundel County, Maryland; and St. Paul Island, Alaska.
STATE GOVERNMENT | As rivers continue to rise in parts of the Carolinas following Hurricane Florence, state transportation officials continue to plead for patience as evacuees are looking to return home. The North Carolina Department of Transportation reported Tuesday that there were 1,050 road closures across the state, including large sections of Interstates 40 and 95. The agency also warned that real-time navigation tools like Waze "aren't able to keep up with the changing road closures and are directing people onto roads that are confirmed closed and/or flooded." [The News & Observer; @NCDOT]
Bismarck, North Dakota: North Dakota Chief Information Officer Shawn Riley wants to bolster state resources for cybersecurity, including "more than $11 million in software upgrades and 37 additional cybersecurity experts in the next two-year budget." [AP via Bismarck Tribune; KFYR]
Sacramento, California: After vetoing a measure last year that would have banned the smoking of cigarettes on state beaches because it was "too broad," Gov. Jerry Brown in considering legislation that would "do essentially the same thing." But it's unclear whether Brown will sign the legislation, A.B. 1097. [CNBC; A.B. 1097]  
Anne Arundel County, Maryland: The Maryland State Highway Administration is taking a flea infestation at one of its offices "very seriously," so much so that the agency is "offering to inspect employees' homes to identify the source." [The Baltimore Sun]
Erie County, Pennsylvania: State Auditor Eugene de Pasquale led a regional hearing on Tuesday regarding transparency and accountability with prescription drug pricing. [Erie News Now]
LOCAL GOVERNMENT | New York City Councilman Rory Lancman, who represents a district in Queens, says that Mayor Bill de Blasio's administration isn't doing enough to reduce the racial disparity in marijuana arrests in the city. "There are two distinct problems with marijuana enforcement, and each needs to be attacked with equal vigor. Arrests are too high, and the disparity is unconscionable," Lancman said. [New York Daily News]
New Orleans, Louisiana: A new initiative from Mayor LaToya Cantrell that aims to reduce littering and illegal dumping comes with at least 10 new surveillance cameras in addition to 100 new trash cans and a reopened recycling center. [TheLens]
Florissant, Missouri: Mayor Thomas Schneider won't face punishment for unlawfully using city stationery and an email database when sending out political endorsements in the city of Hazelwood, the Ferguson-Florissant school district and the Hazelwood school district. [St. Louis Post-Dispatch / STLToday]
Bend, Oregon: Deschutes County officials are considering a 700-acre "transect zone" between the Bend city limits and the Deschutes National Forest where low-density housing would be designed in ways to limit the spread of wildfires. [Bend Bulletin]
St. Paul Island, Alaska: The remote Pribilof Islands have long been rat free thanks to a defensive line of traps adjacent to the local docks, but authorities are seeking a rat that apparently made it beyond the perimeter, hopefully not breeding and creating a bigger problem for the island's wildlife. [Alaska's Energy Desk / Alaska Public]
Las Cruces, New Mexico: The Las Cruces City Council on Monday approved an incentives package that will allow large businesses that make local infrastructure investments to be reimbursed by the city. [Las Cruces Sun News]