Wash. Gov. Inslee: 'We Will Be Ready' If Feds Come After State's Net Neutrality Law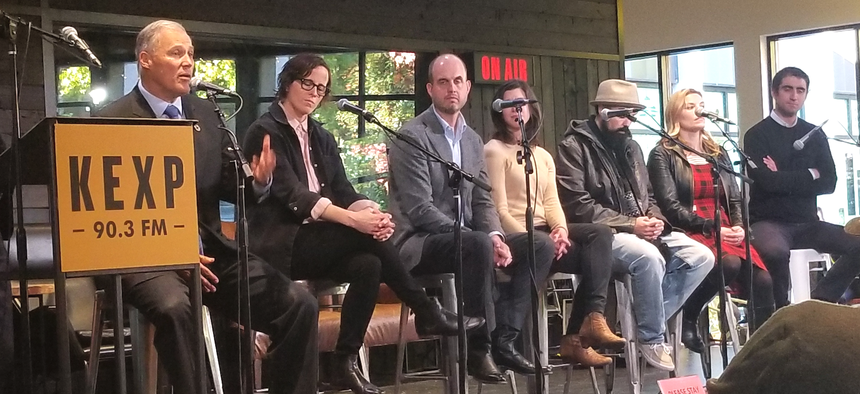 STATE AND LOCAL ROUNDUP | Ky. governor warns of pension failures … N.Y.C. law on gender preferences for birth certificates … and El Paso feels disrespected.
Good morning, it's Wednesday, Oct. 10, 2018. Hurricane Michael, a powerful Category 3 storm, is coming ashore on Florida's Panhandle today (stay tuned for more). Leading Route Fifty's state and local government news roundup is net neutrality but scroll down for more from places like Columbia, South Carolina (where the state attorney general doesn't like a new grand jury report); Detroit, Michigan (where an indicted councilman says he's innocent); and El Paso, Texas (which often feels disrespected by the rest of the Lone Star State).
NET NEUTRALITY | After its new state-level net neutrality law was signed into law in late September, California has been facing legal scrutiny not only from telecommunications industry groups but also from the U.S. Department of Justice. While the Trump administration hasn't yet gone after Washington state's net neutrality protections, if it does, "we will be ready," Gov. Jay Inslee said Tuesday afternoon during a panel discussion on net neutrality at the KEXP Gathering Space in Seattle. Inslee called net neutrality "a fundamental bulwark of democracy," and praised the work of state officials in Washington to create the nation's first law to prohibit internet service providers from throttling or blocking certain types of online content, including State Rep. Drew Hansen, who sponsored H.B. 2282, and also sat on the KEXP panel along with local musicians, former elected officials and entrepreneurs. "We have to be adept at this and get other states to join us," said Inslee, who has been among the governors to use their executive powers to link net neutrality to state procurement policies. [H.B. 2282; KEXP]
GOVERNORS | Kentucky Gov. Matt Bevin continues to warn that the state's badly funded public pension plans are set to fail unless his pension reform legislation is upheld by the courts. [Messenger-Inquirer] … Alabama Gov. Kay Ivey announced Tuesday that 16 domestic violence shelters in the state will receive additional funding through Alabama's Domestic Violence Trust Fund. [WAAF] … Pennsylvania Gov. Tom Wolf isn't enthused about the prospect of signing legislation that legalized marijuana in the state. [The Patriot-News / PennLive]
CITY HALLS | New York City Mayor Bill de Blasio signed legislation Tuesday that will "allow adults born here to change the gender on their birth certificate without a medical professional's approval—instead letting them 'self-attest' their gender." [New York Daily News] … City officials in Alamogordo, New Mexico are disputing a state auditor's report saying the local government "wasted taxpayer dollars on a project to build a family fun center." [KQRE] … Edgewood Cliffs, New Jersey Mayor Mario Kranjac wants the borough's council members to fire Police Chief Michael Cioffe after secret recordings surfaced of the chief referring "to the mayor as an expletive, laughs while a police officer mocks an Asian councilman, and says he would like to kill a councilwoman." [NorthJersey.com] … Palo Alto, California Mayor Liz Kniss says the city will give Dr. Christine Blasey Ford a special proclamation. [KRON]
RECORDS MANAGEMENT | The California Department of Motor Vehicles continues to be under fire for botched voter registrations from the agency's motor-voter registration and the situation is serious enough that Secretary of State Alex Padilla says that freezing the program isn't out of the realm of possibilities. [The Sacramento Bee]
PUBLIC CORRUPTION | A state grand jury report has found that South Carolina Attorney General Alan Wilson "undermined a Statehouse corruption probe that targeted a powerhouse family of political operatives." [The Post & Courier] … Detroit City Councilman Gabe Leland, who is facing a federal indictment for bribery, says he's "innocent until proven guilty." [The Detroit News]
LAW ENFORCEMENT | The Domestic Highway Enforcement Team of the Los Angeles County Sheriff's Department is facing scrutiny over its work along Interstate 5 to stop illegal drug trafficking. A Los Angeles Times analysis of sheriff's data found that "deputies searched the vehicles of more than 3,500 drivers who turned out to have no drugs or other illegal items" and the overwhelming number of those were Latino. [Los Angeles Times]
MOBILITY | In an effort to reduce the need for onsite parking, the developer of large 78-acre mixed-use development in downtown Spokane, Washington is covering the costs of bus passes for anyone who lives or works at Kendall Yards. [Spokesman Review] … E-scooter operators plan to hold off deployment in Meridian, Idaho until March. [Meridian Press] … A common bikeshare system is being considered for a handful of local municipalities in Connecticut, including Bridgeport, Fairfield and Stratford. [Connecticut Post]
ECONOMIC DEVELOPMENT | The mayor of Norfolk, Virginia said that the city won't be offering incentives to Norfolk Southern in a bid keep the railroad's headquarters from relocating to Atlanta. [The Atlanta Journal-Constitution] … An annual audit in Louisiana found that the state "spent more than $1 billion on tax breaks for people and corporations during the budget cycle that ended in July." [The Advocate]
CIVIC IDENTITY | Would El Paso, Texas be better off if it were part of New Mexico instead of the Lone Star State? In a commentary piece, El Paso attorney Steve Fischer writes that "[t]he rest of the state doesn't seem to understand us. Maybe it's time to break up. … Our marriage to Texas has gotten old. New Mexico is younger and more attractive. We would not be ignored, especially because we would be their largest city." El Paso has nearly than 700,000 people inside the city limits. [Texas Tribune / TribTalk]