California's Catastrophic, Drought-Driven Tree Deaths Threaten Wildfires This Summer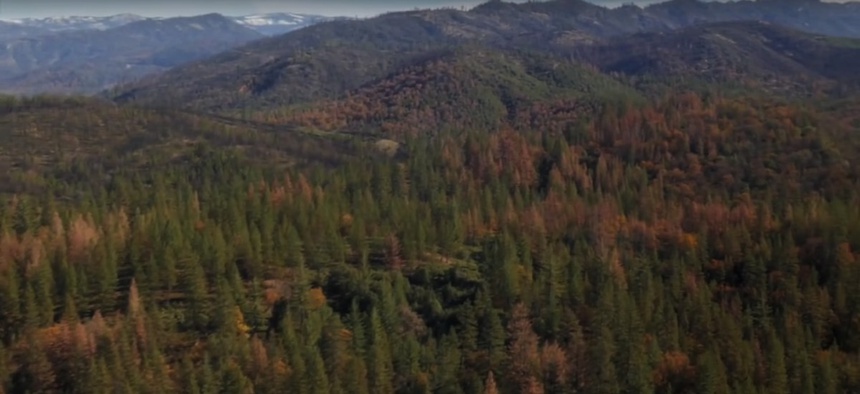 Bark beetles have killed more than 29 million trees among the Sierra Nevada mountains, putting the state's wildlife, water supply and air quality all at risk.
Several California counties are bracing for increased wildfires this summer with unprecedented, drought-related tree mortality leaving behind plenty of kindling in the central and southern Sierra Nevada mountains.
Native bark beetles have proliferated during the drought, making quick work of more than 29 million trees in the region's ponderosa forest—burrowing to their centers and killing them.
Mass tree mortality is a catastrophic, ecosystem-changing event for local wildlife species and the state's water supply.
"Those trees are essentially the lungs of the state, and so from an air quality perspective, they're critical in terms of just maintaining general air quality," says Ashley Conrad-Saydah, California Environmental Protection Agency climate policy deputy secretary, in a new California State Association of Counties video . "They sequester carbon and hold onto emissions that would otherwise be coming out from wildfires."
Dead trees also pose hazards as they fall around campgrounds, across roads and on power lines.
Gov. Jerry Brown's Tree Mortality Task Force is an intergovernmental body attempting to mitigate the challenge because county budgets are tight.
"All our discretionary emergency funds will go to this problem, and we'll run out of money long before we solve the problem," says Tuolumne County Supervisor Randy Hanvelt.
Cal Fire hopes to preserve $150 million within its own budget in state cap-and-trade grants intended to fund the curbing of greenhouse gas emissions through forest management.
But the frightening devastation is visibly worsening.
"You don't want to believe that your entire ponderosa forest can be wiped out," says Mariposa County Supervisor Kevin Cann.