States, Counties and Cities Report Surges in Hepatitis A Cases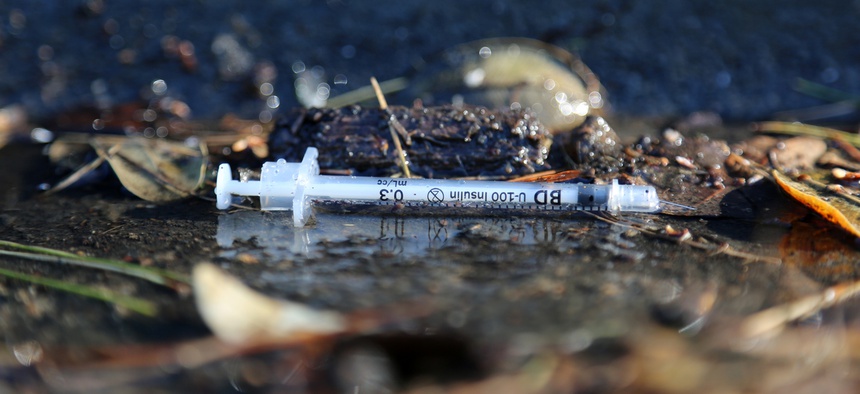 STATE AND LOCAL ROUNDUP | Communication black hole during Camp Fire … N.Y. seafood fraud investigation … and mental health needs swell after Anchorage quake.
Good morning, it's Tuesday, Dec. 18, 2018. Leading Route Fifty's state and local government news roundup is public health but scroll down for more from places like Baton Rouge, Louisiana; Pittsburgh, Pennsylvania; and Anchorage, Alaska. … ALSO IN ROUTE FIFTY …  A surprise special session on pension reform in Kentucky … Feds say homelessness has edged upwards this year … Jails may not be able to hold juveniles pretrial much longer … and crowdsourcing King tide impacts in Washington state.
Let's get to it …
PUBLIC HEALTH | State and local health authorities across the nation have been reporting spikes in hepatitis A cases. In Pima County, Arizona, which includes Tucson, has reported 22 cases this year.  In 2017, the county only reported five cases. In Albuquerque, New Mexico, public health officials from Bernalillo County have reported 13 confirmed cases over a two-week span. Most years in all of New Mexico, there are only 10 cases. Since August 2017, there have been more than 3,100 hepatitis A cases in Kentucky. The Florida Department of Health has been distributed free vaccinations in Seminole County as the state continues to see three times the number of cases over the five-year average—at least 385 cases in 2018. Populations at particular risk are the homeless and drug abusers. [KVOA; KOB; WLKY; Orlando Sentinel]
SHORT-TERM RENTALS | A review of revenue from short-term rental fines in Charleston, South Carolina shows that $25,000 in violations has been brought in since September—23 violations at $1,087 a piece. Sixty-two cases are pending. [The Post and Courier] … Owners of vacation rental properties in Taney County, Missouri, which includes Branson, won't be seeing new county fees on for their short-term rentals. [KY3]
EMERGENCY MANAGEMENT | The Camp Fire's death and destruction was made worse by a "black hole" of communication problems as the conflagration approached and consumed Paradise, California and neighboring  communities in Butte County. A Bay Area News Group review found "problems at every level—many residents didn't sign up for the system, officials didn't trigger warnings for every neighborhood, and overloaded or damaged cellular networks often failed to deliver warnings to the intended recipient. Meanwhile, flames engulfed the region with stunning speed, leaving little room for error." [Bay Area News Group via Chico Enterprise-Record] … The Central Texas Council of Governments is seeking public input into the development of flood early-warning system and response plan for Nolan Creek, including the cities of Belton and Killeen. [KWTX]
DISASTER RECOVERY | Mental health providers in Anchorage, Alaska have "had trouble keeping up with appointments" following the recent magnitude 7.0 earthquake, which violent shook the city. That's forced clinicians to come up with "creative ways to meet demand," including free evening support groups "for people who are trying to process their trauma." [Anchorage Daily News] … Iowans in eight counties impacted by flooding in June and July—Boone, Dallas, Jasper, Madison, Marion, Polk, Story and Warren—are now able to apply for low-interest federal disaster loans through the Small Business Administration. [Radio Iowa]
STATE GOVERNMENT | Jean Shiomoto, the director of the California Department of Motor Vehicles, will be stepping down from her position when Gov.-elect Gavin Newsom takes office in January, after 38 years working for the state government. The department has been under fire for months for long delays at DMV branch offices across the state and difficulties implementing the state's new motor-voter law. [Los Angeles Times] … New York State Attorney General Barbara Underwood's office has released the results of a year-long investigation into seafood fraud, which found that "more than a quarter of all the fish it sampled at retail outlets across the state was mislabeled, and grocery stores in New York City, specifically, performed worse than everywhere else." [New Food Economy]
CITY HALLS | South Bend, Indiana Mayor Pete Buttigieg announced that he won't be seeking a third term in office, a move national Democrats are watching closely since Buttigieg has been considering a run for the White House in 2020. [The Washington Post; Indianapolis Monthly] … Baton Rouge, Louisiana Mayor Sharon Weston Broome recently released a report that outlines progress on the city-parish's open data policy and plans for the upcoming year. As of Dec. 3, the Open BR data portal has had 3.8 million page views, with 31 data sets hosted on the site. [Greater Baton Rouge Business Report; BRLA.gov]
TRANSPORTATION & MOBILITY | Port Authority of Allegheny County buses in and around Pittsburgh are late about the third of the time, according to recent performance audit by Pennsylvania Auditor General Eugene DePasquale's office. [Pittsburgh Post-Gazette] … The E-470 Public Highway Authority in the Denver area says that tech startup Arrivo, which was looking to use test autonomous high-speed pods at an unused toll station, pulled out of the project "months ago." [Colorado Sun] … Major improvements are being planned for the heavily used W&OD bicycle trail through Falls Church, Virgina, near Washington, D.C. that will include a wider path with separate areas for bicyclists and pedestrians and new bridges, including one to "mitigate one of the more hazardous crossings for both bikers and pedestrians" at Route 29. [Falls Church News-Press]