A Long-Haul Rail Journey on a Train Trump Wants to Eliminate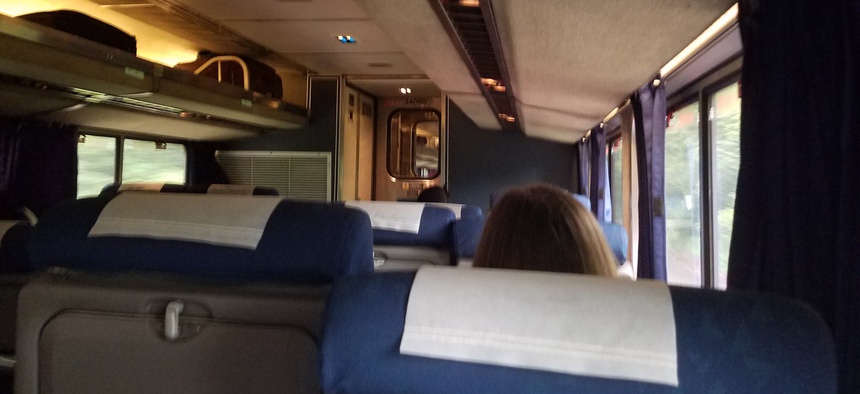 One of the best ways to better appreciate America is, unfortunately, an endangered species thanks to the White House.
ABOARD THE CAPITOL LIMITED — Things weren't going according to plan on this long-distance overnight Amtrak train route connecting Washington, D.C., and Chicago last week Thursday.
Amtrak Train 29 left Washington Union Station about 10 minutes late and the café car ran out of Heineken by the time it arrived in Cumberland, Maryland. Trash was overflowing from a receptacle in one of the lower-level restrooms, where an unappetizing half-eaten sandwich was left abandoned next to a toilet. And back on the upper level, hungry passengers awaiting a scheduled 8 p.m. dinner seating in the dining car—including this writer—were left in a bit of a communications black hole by train personnel. Since previous seatings were delayed by more than an hour, it was unclear whether a sit-down meal was actually going to happen. (It did, eventually.)
These shortcomings are certainly no way to run a railroad, but it's not necessarily a surprise.
This is one of Amtrak's beleaguered and often delayed long-distance rail routes, which are at the mercy of freight-rail operators who control the tracks and market forces that make driving, flying or sometimes even taking the bus more attractive travel options. According to Amtrak, this particular train has an endpoint on-time performance of under 50 percent . In May, the Capitol Limited's on-time performance was around 45 percent with 60 percent of delays due to "train interference"—mostly from Norfolk Southern freight traffic—and about 17 percent due to delays from track and signals.
The Capitol Limited takes its name from a former Baltimore & Ohio Railroad passenger service that started running between New York City and Chicago via the nation's capital in 1923. While the Capitol Limited offered a slower route between New York City and Chicago via a scenic and twisting passage through the mountains of northern West Virginia and southwestern Pennsylvania, it was known for the plush accommodations of its sleeper cars.
As passenger rail traffic began to plummet after World War II, railroad companies struggled financially. And when the Amtrak system was formed in the 1970s to assume the responsibility of passenger rail service in the U.S., the Capitol Limited was retained, though truncated to serve only Washington, D.C., and Chicago.
Flash forward to 2017, skipping over other chapters of Amtrak fiscal history, and the Captiol Limited and long-distance routes like it are endangered species. They're set to be axed if congressional appropriators go along with President Trump's budget proposal, which has proposed deep cuts to Amtrak.
What's at Stake
Zeroing out federal rail subsidies for Amtrak's 15 long-distance trains would eliminate passenger rail service to, at minimum, 220 cities and towns, the National Association of Rail Passengers warned in March . Most of the cuts would hit rural and working-class communities in the South, Midwest, and intermountain West on long-distance routes that carried 4.6 million passengers in fiscal 2016, according to Amtrak ridership statistics.
The Capitol Limited stops in places like Harpers Ferry, West Virginia; Cumberland, Maryland; Pittsburgh; Cleveland, Sandusky and Toledo in Ohio, and Elkhart and South Bend in Indiana. If congressional appropriators go along with Trump's proposed cuts to the long-distance routes, all Amtrak service in Ohio would cease . Many other states would see their Amtrak service disappear.
Shorter regional routes in the Northeast, California, Pacific Northwest and some operating out of Chicago, would be retained.
But even Amtrak's busy Northeast Corridor corridor connecting Washington, D.C., New York City and Boston would see its future capital improvement budget eliminated under the Trump budget proposal, a move that would hobble Amtrak's ability to pursue needed infrastructure upgrades along the aging rail corridor , the most trafficked in the nation.
Critics of the national rail operator have wanted to eliminate the Capitol Limited and Amtrak's other money-losing long-distance routes, including the Cardinal, City of New Orleans, Empire Builder, Southwest Chief and Sunset Limited, for years.
But congressional appropriators, especially those who represent rural states and smaller communities that enjoy the benefits of access to intercity passenger rail, have intervened over the years to keep many of these trains running.
Still, they've never received the type of support they need to flourish while facing the reality that there are faster, more economically feasible ways of travel over long distances.
Strangers on a Train Representing a Cross-Section of America
So is it worth it to keep these trains in service?
Nobody rides the Capitol Limited to get from Point A to Point B quickly or for its convenience. In Pittsburgh, Chicago-bound trains pull into the city's aging and mostly unused Union Station is scheduled to pull in well after midnight—not an ideal trip to either depart or arrive in any city. In the eerie dirty-yellow glow of the sodium-vapor lights, you feel like you've arrived in some haunted warehouse, not a train station in one of America's great cities.
My recent journey on the Capitol Limited and previous trips along the route between Chicago and Washington, D.C., have been pretty packed. Sitting in the Capitol Limited's café or observation car, you hear plenty of reasons for taking the train from strangers chatting in close quarters.
Some people genuinely enjoy rail travel and like the ability to walk around the train, stretch out in seats that make you feel like you're enjoying relative royalty compared to cattle-car conditions on today's airlines. Others on the Capitol Limited are on vacation, drawn to the allure and adventure of train travel and the ability to watch the scenery go by.
But for others, riding the Capital Limited is a necessity, not a choice.
"My driver's license was suspended and flying is too damned expensive," I overheard one man say in the café car, where there was a gaggle of loud strangers, including an Australian tourist exploring America, drinking lots of beer, comparing tattoos and sharing stories.
Elsewhere on the train, a sports columnist for a local newspaper in New Jersey, traveling with his son to cover the NHL draft in Chicago, told me he fears flying and usually drives. But his car was having trouble and the train was the best next option. It was his first time taking a train outside of the New York City area.
And for the Amish, who avoid the personal use of many modern technologies, the train is the best option for traveling long distances. In the handful of times I've been on the Capitol Limited, there have always been Amish on board, and this trip was no exception. As everyone else was frustrated when cellphone and data service cut off for an hour or so winding through the mountains of southwestern Pennsylvania, Amish teens were dutifully working on printed crossword puzzles and word searches as night fell on the westward trip.
On my train, there were white retirees heading cross-country to Seattle on vacation, African-Americans and Latinos traveling to family reunions and a young couple who met at Dartmouth College who were my dining car companions and had cashed in their Amtrak Guest Reward points to go from the East Coast to Glacier National Park in Montana and onward to the Pacific Northwest.
On previous Capitol Limited trips in the mid-2000s, I saw exhausted soldiers heading home after tours of duty in Iraq and Afghanistan.
While the Capitol Limited is not as famous as the City of New Orleans, a passenger train immortalized in a Steve Goodman song of the same name and made popular in covers by Arlo Guthrie, Johnny Cash and Willie Nelson—you know, the one with the lyrics "Good morning America, how are you?"—you experience a similar cross-section of America.
Unless you shell out extra bucks for more comfortable accommodations in a sleeper car or "roomette," it's difficult to avoid interacting with strangers when you're sequestered on a train for upwards of 15 hours—Train 23 arrived in Chicago after about 17 hours.
It's not quite the "fifteen cars and fifteen restless riders, three conductors and twenty-five sacks of mail" from Goodman's "City of New Orleans," but the riders of the Capitol Limited are indeed restless. (It's not always easy to sleep on a train, at least in coach.)
So returning to a bigger question: Should these long-distance routes be retained? Why should governors, mayors and congressional representatives try to save these trains?
For many, retaining Amtrak's long-distance trains is a situation where equity in transportation access might matter more the economics. After all, so many public highways are heavily subsidized by federal, state and local governments and aren't expected to be financially self-sustaining because they are economic development assets that bring value. Passenger rail service brings value, too.
"It's ironic that President Trump's first budget proposal undermines the very communities whose economic hardship and sense of isolation from the rest of the country helped propel him into office," NARP President Jim Mathews said in a statement in March. "These working class communities—many of them located in the Midwest and the South—were tired of being treated like 'flyover country.' But by proposing the elimination of Amtrak's long distance trains, the Trump Administration does them one worse, cutting a vital service that connects these small town economies to the rest of the U.S. These hard working, small town Americans don't have airports or Uber to turn to; they depend on these trains."