California Governor Scales Back State's High-Speed Rail Plans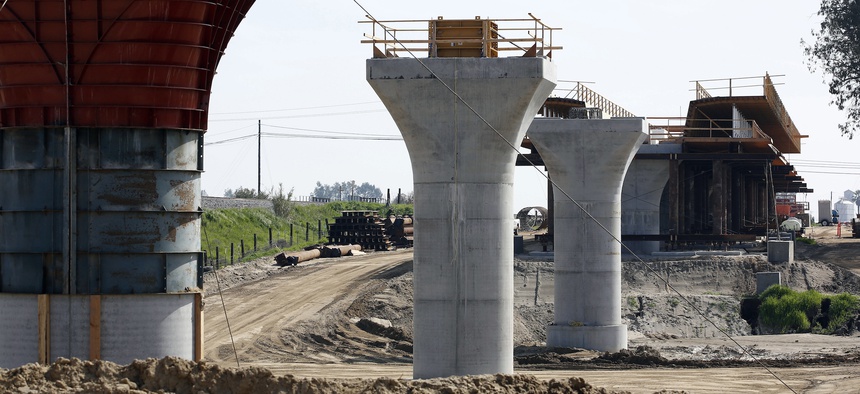 STATE AND LOCAL ROUNDUP | Baltimore targets trash burning … Illinois looks for way to dig out of pension mess … and Maine's pragmatic budget.
Good morning, it's Wednesday, Feb. 13, 2019. Governors lead Route Fifty's state and local government news roundup but scroll down for more from places like Florence, South Carolina;  Dallas, Texas; and Ashland, Oregon … ALSO ON ROUTE FIFTY … Appeal to Trump on SALT Cap Appears to Get Cool Reception … Bike Share Continues to Have an Equity Problem … Costly Natural Disasters Becoming More Frequent ...
Let's get to it …
GOVERNORS | During his State of the State address on Tuesday, California Gov. Gavin Newsom announced that the state will scale back its high-speed rail line connecting San Francisco with Los Angeles, but said the state has the "capacity" to complete the section currently under construction in the Central Valley, and link Merced and Bakersfield. "The current project, as planned, would cost too much and respectfully take too long. There's been too little oversight and not enough transparency," Newsom said. [San Francisco Chronicle; Los Angeles Times; Streetsblog] … During her first budget address, Maine Gov. Janet Mills laid out her two-year, $8 billion proposal that she said invests in schools, infrastructure and public health without raising taxes. "This is a pragmatic, common-sense budget that lives within our means and that delivers what Maine people want," Mills said on Monday night. [Portland Press Herald] …
CITY HALLS | The Baltimore City Council on Monday approved "stringent emissions limits" that could lead to end of the burning of garbage, the biggest source of air pollution in Maryland's largest city. [Baltimore Sun] … Using his veto power, Mayor John Stromberg of Ashland, Oregon has quashed a plan that would have allowed transportation network companies like Uber and Lyft to operate in the city. [Ashland Daily Tidings] … Local officials in Florence, South Carolina, responding to complaints from residents who have homes in low-lying areas, acknowledge that flooding has gotten worse over the years and stormwater infrastructure has difficulty dealing with major events. "When you have a stormwater system designed for a two- to five-year storm, and you have a 1,000-year storm, then you're going to have ponding and you're going to have some flooding," City Manager Drew Griffin said during a City Council meeting on Monday. [WMBF]
LAW ENFORCEMENT | Leaders in Harris County, Texas, which includes Houston, have denied a $20 million request from District Attorney Kim Ogg to hire 102 additional prosecutors. [Houston Public Media] … The mayor and police chief in Baton Rouge, Louisiana have apologized for 26-year-old photos that have been circulating online showing two police officers, "one current and one now retired, dressed in plain clothes with parts of their bodies and their faces painted black." [WAFB; Ebony] … Nobody seems to be happy with the process and proposals for reforming the Dallas Citizens Police Review Board, which has been under examination by the Dallas City Council. [KERA]
WORKFORCE | State lawmakers in North Carolina are "pumping the brakes" on a plan to relocate the headquarters of the Department of Motor Vehicles from downtown Raleigh to Rocky Mount, which is an hour away from from the state capital. DMV Commissioner Torre Jessup said that the relocation and longer commute would cause many DMV employees to retire or quit. [@NCCapitol / WRAL] … Illinois Gov. JB Pritzker is "turning to business experts to figure out how to chip away at the massive debt in the state's employee retirement system." [Bloomberg News]