The 'Fundamental Shift in Federalism' Under Trump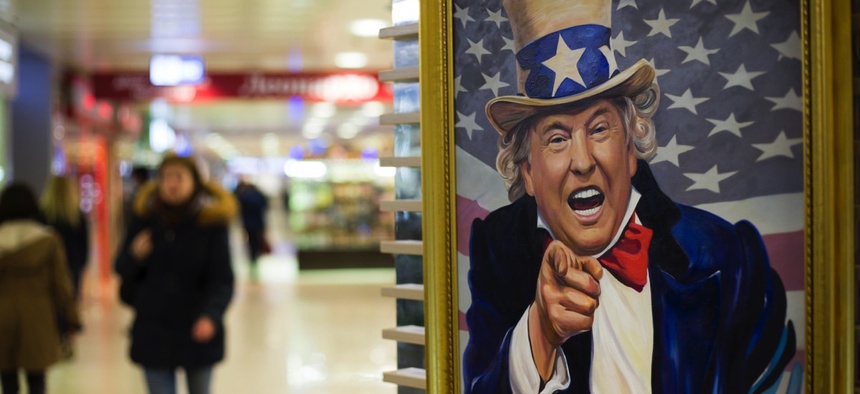 States and localities are interacting with the federal government differently under the new administration on matters of health care, immigration and a host of other issues.
WASHINGTON — The vote on a new bill repealing and replacing parts of the Affordable Care Act, a draft of which congressional Republicans are circulating internally, could come as soon as this week.
Health care accounts for 18 percent of the U.S.'s gross domestic product, and $80 billion a year is invested in county health care systems responsible for more than 1,000 hospitals, 900 nursing homes, 800 behavioral health authorities, 2,000 local health departments and 3.3 million employees.
The National Association of Counties has tried to keep an open dialogue with the White House, urging health care reform instead of the 10-year, $800 billion Medicaid cost shift to states and localities as proposed in the GOP's American Health Care Act—which was dead on arrival last month.
Medicaid helps insure low income, uninsured and underinsured residents, and 18 states already require counties to contribute to some of the cost. Caps or block grants to states being floated by Republicans could wind up being harmful to counties, NACo Legislative Director Deborah Cox said at the International Municipal Lawyers Association's mid-year seminar Friday in the nation's capital.
"[States] would have to determine with that amount of money to cut services, or they would pass that cost down to localities," Cox said.
Here are a few other issues the "Ensuring Preemption Is Not Synonymous With Deregulation: The Threats and Opportunities of the Trump Administration" panel discussed:
Sanctuary Cities
Ever since 32-year-old Kate Steinle was shot and killed on a San Francisco pier two years ago—an undocumented ex-convict, Juan Francisco Lopez Sanchez, was charged in her murder—U.S. Attorney General Jeff Sessions, then a U.S. senator from Alabama, has pushed for harsher immigration enforcement.
Now he helms "many of the efforts of the current administration," said U.S. Conference of Mayors Director of Public Safety Laura Waxman.
"I think the focus will be on sanctuary cities and efforts to get local law enforcement to supplement federal immigration enforcement authorities, which we have problems with," Waxman said, when asked about the possibility of President Trump pursuing comprehensive immigration reform.
The term "sanctuary city" remains political, not legal, so it's concerning the attorney general is given the power in Trump's executive order addressing them to designate jurisdictions under the title.
Cities are currently only required not to prohibit employees from sharing information with federal immigration authorities, and sanctuary cities require a warrant or probable cause to comply with an Immigration and Customs Enforcement detainer request.
On Monday, USCM officials are scheduled to meet with the acting director of ICE, which has expanded deportations beyond the undocumented criminals it said it would target. About 25 percent of those deported under Trump to date have lacked criminal records, Waxman said, and "this is having a devastating effect on immigrant communities."
"I'm not confident, at this point, that we will get clear answers," Waxman said.
Sessions hasn't established an appeals process for the sanctuary cities designation, nor which funding streams he'd withhold from noncompliant jurisdictions—though the U.S. Supreme Court has previously ruled with Medicaid that affected funds must tie to the judicial issue at hand.
In an early test case in Santa Clara, California, the Justice Department narrowly interpreted Trump's executive order to be applied to only Justice Department and Homeland Security grants.  
Then in a filing in Richmond, California, the department further elaborated it would first seek a court ruling declaring the city in violation of its grant conditions.
Comprehensive Tax Reform
The question nagging everyone awaiting Trump's trillion-dollar infrastructure package is how he plans to pay for it. Early indications are a combination of pre-existing water, sewer, transportation and broadband grants, as well as various tax incentives promoting public-private partnerships, said The Ferguson Group partner Jennifer Imo.
Expect the Trump administration to shorten the regulatory process to accelerate infrastructure project approval.
"There's a strong appetite on the Democratic side to move forward with such an infrastructure package," Imo said.
On the Republican side? Not so much.
House Speaker Paul Ryan wasn't anticipating the significant opposition he faced to his border-adjusted tax proposal, which would have been a significant revenue generator. Now the taxation of municipal bonds, interest on which is usually tax-exempt, is being kicked around.
"You want to promote infrastructure but take away one of the major financing mechanisms for infrastructure," Imo said.
Jurisdictions are worried about losing that deductibility, as well as that of state and local taxes. High property and income taxes in blue states like California, New Jersey and Connecticut are naturally the most attractive to congressional Republicans.
Imo's advice to concerned cities: pressure your local Congress member.
Water
More than 30 states filed federal lawsuits staying the Obama administration's Clean Water Rule, and appropriators have worked to defund Environmental Protection Agency activities since.
County lawyers, environmental staff and stormwater officials worked with the last administration to develop a strong consultation process, Cox said, but there is confusion in the courts about who has jurisdiction over "Waters of the U.S." The U.S. Supreme Court is set to weigh in, and in the meantime the Trump administration has capitalized on the confusion to begin rolling back the rule—hoping ultimately for a rewrite.
The EPA held its first consultation with state and local officials two weeks ago to restart the process, Cox said, which will likely take "a very long time."
Consent Decrees
"I think it's clear this Justice Department will not take the activist approach the Obama Justice Department did in trying to make police reform happen," Waxman said.
Broadband
There are currently around 15 bills in Congress dealing with broadband deployment like the MOBILE NOW Act, which urges conduit to be laid when the ground is opened for public works projects.
Then there are bills like Utah Republican Sen. Orrin Hatch's Highway Rights-of-Way Permitting Efficiency Act.
"That screams preemption," Imo said.
Government Shutdown
Trump's demand that the federal budget Congress advances includes funding for his border wall is a nonstarter for Democratic legislators and a recipe for a government shutdown.
The panel agreed a one- to two-week continuing resolution was likely to buy Congress more time.
"I think they'll do something that they'll call a wall," Waxman said. "There are also better ways than walls to tighten the border."
Homeland Security Secretary John Kelly has suggested the border might be beefed up with technology instead.
Community Development Block Grants
Legislators in both houses of Congress appear committed to preserving the grants startlingly absent from Trump's budget proposal, a rare instance of bipartisan agreement, Cox said. That said, there's no telling what cuts to them could look like.
Waxman worried they could become irrelevant if downsized enough—the "death by 1,000 cuts" approach.
Federalism
NACo continues to monitor the "fundamental shift in federalism" occurring under the Trump administration and evidencing itself in proposals like the $800 billion Medicaid cost shift, Cox said.
States and localities are simply being forced to interact differently with the federal government under Trump.