Trump Targets State Holdouts During Election Integrity Commission's 1st Public Meeting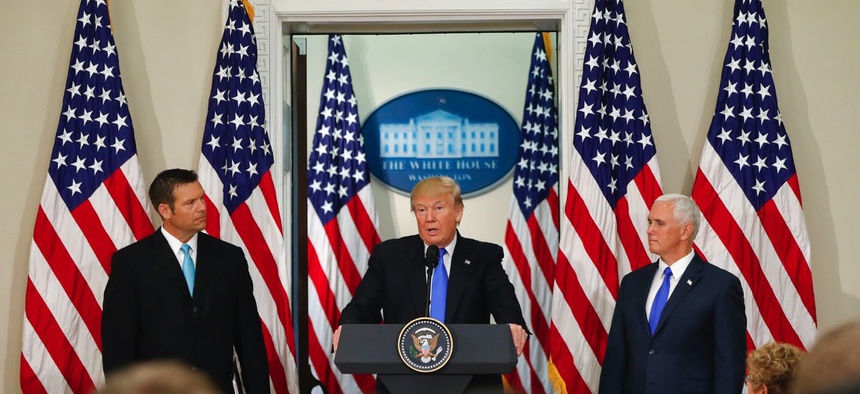 "If any state does not want to share this information, one has to wonder what they're worried about," the president said during a livestream.
WASHINGTON — President Trump opened the first livestreamed meeting of his controversial Advisory Commission on Election Integrity on Wednesday by questioning the refusal by some state officials to comply with its request for sensitive voter file data.
The commission hasn't yet allowed in-person attendance of its meetings or made all of its records available to the public, as required by the Federal Advisory Committee Act . A federal judge on Tuesday declined to immediately compel such actions.
During the livestream, both Trump and Vice President Pence asserted that more than 30 states already agreed to release their publicly available information, though the Brennan Center for Justice at the New York University School of Law puts that number at 17 with eight others imposing restrictions, two reviewing the request and two others never receiving one.
"If any state does not want to share this information, one has to wonder what they're worried about," Trump said of the other 21 states. "And I ask the vice president, and I ask the commission: What are they worried about? There's something; there always is."
Trump formed the commission through an executive order after publicly suggesting that voter fraud by non-citizens was to blame for his finish in the popular vote during the November presidential election, where he lost by nearly 3 million ballots to Democrat Hillary Clinton.
The American Civil Liberties Union sued Trump on July 6 arguing the commission's real aim is voter suppression , which the president said must be stopped Wednesday, after election officials in four states reported voters trying to remove themselves from registration rolls to protect their personal information.
"Public pressure is now all the more important," Sophia Lin Lakin, ACLU Voting Rights Project staff attorney, said in a Tuesday statement following the judge's decision. "We will continue to press for transparency from the commission in the courts and streets."
During Wednesday's livestream, Pence continually stressed the commission's bipartisan composition. It is, however, headed by two Republicans: himself and Kansas Secretary of State Kris Kobach, who has faced accusations that he has worked to suppress voters in the Sunflower State.
The rest of the commission consists of mostly Republicans and proponents of additional restrictions on voting access.
"This commission has no preconceived notions or preordained results," Pence said. "We're factfinders."
Kobach, who told MSNBC after the meeting that he doubted the results of the 2016 election either way, touted his state's proof of citizenship requirements catching 128 non-citizens attempting to register to vote. But that number is a far cry from validating Trump's claims millions may have voted illegally.
The Kansas secretary of state frequently mentioned his Interstate Crosscheck system, in which about 30 states cross-reference their voter rolls to flag duplicate names—a method even he admitted leads to false positives warranting further investigation. In fact, a total of 200 actual votes are impeded for every double voter, according a 2017 joint study by Stanford University, the University of Pennsylvania, Harvard University, Yale Law School and Microsoft Research.
Still, Kobach used the system to say there are millions of probable double registrations and as many as 18,000 in his home state.
Commission member Alan King, a Democratic probate judge in Jefferson County, Alabama, said he'd never seen any evidence of voter fraud in his jurisdiction. Instead, he suggested the commission focus on helping states and counties acquire the funding they need to upgrade their voting machines—a subject it's previously shied away from.
"We can discuss a lot of things about voting, but unless we have the technology—unless the technology is keeping up with voting—then we're not using our time very wisely in my opinion," King said. "So I hope that is an issue that we will get into."
Fellow Democratic commission member Matthew Dunlap, Maine's secretary of state, echoed King that, outside of people who had already filled out an absentee ballot accidentally showing up at the polls, he hadn't encountered voter fraud. But he did say that the commission's purpose should be to "bolster and instill confidence" in the U.S. election system.
"What are the balance points between security and access?" Dunlap asked.
Indiana Secretary of State Connie Lawson, a Republican who was recently named president of the National Association of Secretaries of State , is also on the panel and was reluctant to admit voting system vulnerabilities. She said she hoped the commission would inform the public that, for instance, voting machines aren't connected to the internet, despite the fact election security experts virtually agree that's not the only point at which hackers can co-opt the tech.
Lawson was more concerned with streamlining information sharing between the U.S. Department of Homeland Security and elections officials.
"I think it might be helpful if we did look at the overall cybersecurity issue and how communication to the chief election officials should occur," she said.
Several commission members expressed concerns felons were voting and voter fraud prosecutions weren't being followed up on, which may lead the body to seek incarceration information from states.
The next public meeting of the commission was tentatively floated for the end of August or early September, with plans to scatter them across the U.S. and coordinate one with NASS's February meeting in D.C.