Back-to-School Time Means Kids Are Back to Breathing Their Parents' Auto Exhaust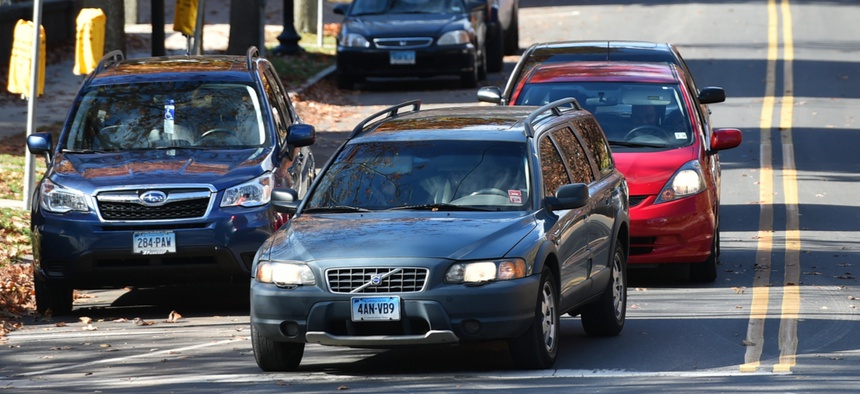 STATE AND LOCAL ROUNDUP | Tropical Storm Gordon moves onshore … Chicago mayor's big re-election news … a big test for Denver's new wireless alert … and Maine files Medicaid expansion plan.
Good morning, it's Wednesday, Sept. 5, 2018. Public health leads Route Fifty's state and local government news roundup, but scroll down for more news from places like the Gulf Coast, where Tropical Storm Gordon moved ashore last night; plus Denver, Colorado; Marenisco, Michigan; and Augusta, Maine, among other places. Let's get to it ...
PUBLIC HEALTH | This week, many school districts around the nation are back in session after their summer breaks, and that means that parents are shifting their routines to get their kids to and from school, whether that involves a yellow school bus, a carpool with neighbors or driving them themselves. Have you ever thought about the exhaust children breathe in when they're dropped off or picked up at schools? Some school districts actively encourage bus drivers to not allow their vehicles to idle in school loading zones due to health concerns. That includes the "Turn the Key, Be Idle Free" campaign in Utah, now in its 11th year. But what about parents? A University of Toronto study released in September 2017, and published in the journal Atmospheric Environment, looks more closely at parents who drive their kids to school and the impacts that has on schoolchildren. "Under certain conditions, particularly in the winter when the air is not moving and dispersing that air pollution, cars can generate very high air pollution concentrations right where students are being dropped off," Matthew Adams, an assistant professor with University of Toronto-Mississauga's geography department, said last year. Having a drop-off point adjacent to a kindergarten playground can lead to "respiratory health issues, poor school performance and poor well-being later in life." [Clean Utah Cities; University of Toronto; Atmospheric Environment via Science Direct]
Philadelphia, Pennsylvania: Some local public health departments "responded defiantly" on Tuesday to the federal government's threat to crack down on local governments that host safe-injection sites as part of their response to the opioid-abuse crisis. [The Washington Post]
Washington, D.C.: The nation's capital has a lot of rats and the "man-versus-rodent clash is practically as old as the city itself." [Washingtonian]
Eau Claire, Wisconsin: The city-county health department is reminding local residents with private wells to have nitrate levels tested and is offering discounted sample kits. Nitrate levels above 10 parts per million are "most harmful for pregnant women and infants." [WEAU]
EMERGENCY MANAGEMENT | The center of Tropical Storm Gordon came ashore Tuesday evening near the border of Mississippi and Alabama, dumping heavy rainfall on the north-central coast of the Gulf of Mexico, causing flooding and power outages. One person died when high winds knocked a tree into a trailer in West Pensacola, Florida. [National Hurricane Center / NOAA; @RichThomasWX; @MississippiDOT; The Weather Channel; WDAM; Sun Herald]
Denver, Colorado: The City and County of Denver will be testing its wireless emergency alert system for the first time on Wednesday around 11 a.m. local time. The test will relay an alert to about 1 million people. "We are going to be using this system to tell you to either shelter in place, evacuate, there's a weather emergency. So this system is very, very important," according to Loa Esquilin, a public information officer for the Office of Emergency Management. "We need to make sure how it sounds, how it looks, when are we going to use it, and how are we going to use it." [@DenverOEM; KCNC / CBS Denver]
Riley County, Kansas: Local officials surveyed damage on Tuesday after heavy rainfall this weekend caused rivers and creeks to spill out of their banks in the Manhattan area. Additional rains could cause more flooding in the coming days. Kansas Gov. Jeff Kolyer has added the county to the state's disaster declaration list. [@RileyCountyPD; GateHouse Kansas via Hays Daily News]
STATE GOVERNMENT | New York state's Metropolitan Transportation Authority unveiled the freshly renovated Cathedral Parkway-110th Street subway station, which serves local trains along the Eighth Avenue Line on Manhattan's Upper West Side following five months of repairs and upgrades That includes plenty screens with real-time train arrival and service information, which have been introduced to more stations in recent years. Those screens, however, can't fix some of the subway's more stubborn, long-term problems, like overcrowding and service reliability. [MTA via Flickr; The New York Times]
Augusta, Maine: The Maine state government has reportedly filed a Medicaid expansion plan with the federal government but has also asked the Trump administration to reject it. Last month, the Maine Supreme Court dismissed an appeal by Gov. Paul LePage's administration of a voter-approved initiative to expand Medicaid in the state. [Maine Public; WMTM]
Trenton, New Jersey: State funding for the defense of immigrants facing deportation proceedings that Gov. Phil Murphy promised has been bogged down in "bureaucratic confusion." [WNYC]
Marenisco, Michigan: State Rep. Scott Dianda has asked Michigan Auditor General Doug Ringler to investigate a whether "documentation exists" to justify a decision by the Michigan Department of Corrections to shutter the Ojibway Correctional Facility in the Upper Peninsula. [WLUC / UpperMichiganNewsSource]
LOCAL GOVERNMENT | Chicago Mayor Rahm Emanuel won't seek re-election next year, leaving an open seat race to lead the nation's third-largest city and taking many Chicago political observers by surprise. Anti-violence and other civic activists who have opposed Emanuel and his administration's handling of the fatal shooting of Laquan McDonald in 2014, and "neglect and disrespect of black and brown communities, for his disdain for our communities, refusing to do any community revitalization, economic development," Kofi Ademola, an organizer with Black Lives Matter Chicago, told Block Club Chicago. With Emanuel planning his City Hall exit, some activists are seeking to oust some of the mayor's allies on the Board of Aldermen. [Block Club Chicago; Chicago Tribune; WBEZ]
Oakland, California: Local leaders are preparing a lawsuit challenging the Oakland Raiders' planned departure from the city that will likely seek millions of dollars in damages. The Raiders could end up leaving the Oakland Coliseum early. Oakland and Alameda County spent $75 million to renovate the Coliseum as part of a deal to bring the Raiders back to Oakland. [San Francisco Chronicle; NBC Bay Area]
Clayton, Missouri: The St. Louis County Council voted Tuesday to kill an incentives package proposed by County Executive Steve Stenger to help the Save-a-Lot grocery chain move its headquarters to a new location at a former shopping plaza in St. Ann, near St. Louis Lambert International Airport. [St. Louis Post-Dispatch / SLToday]
Detroit, Michigan: The Detroit City Council on Tuesday unanimously approved a plan rename the Chene Park waterfront amphitheatre in honor of the late Aretha Franklin, an effort that was initially announced by Mayor Mike Duggan at Franklin's funeral on Friday. The city plans to fund upgrades and improvements at the 30-year-old park through fundraising and bonds. [WXYZ; Detroit Free Press]
Wapato, Washington: Mayor Juan Orozco, who was elected a few months ago, will be stepping down to become city administrator, a new position in this town near Yakima. Councilmember Dora Alvarez-Roa will become Wapato's first Latina mayor. [KIMA; Yakima Herald Republic]