In White House Meeting With Governors, Trump Emphasizes Preference for Arming School Staff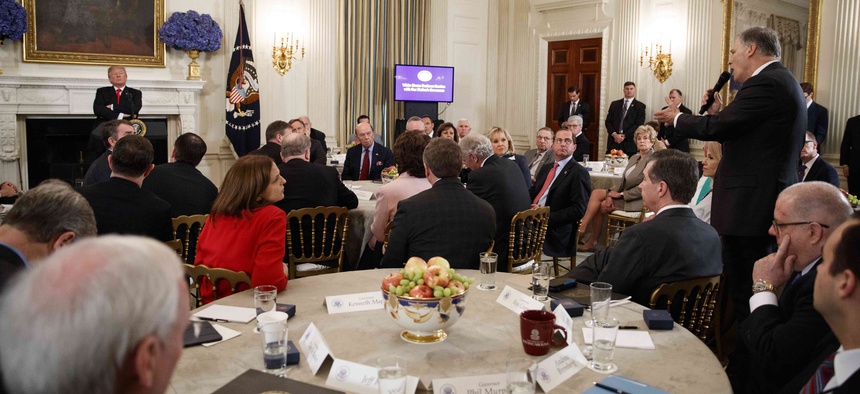 The president at one point had a tense exchange with Washington Gov. Jay Inslee over the issue. Mental health and background checks also came up during the discussion.
WASHINGTON — President Trump stressed in a meeting with governors at the White House on Monday that he sees having armed personnel at schools as a promising option for preventing future mass shootings like the one that took place in Florida earlier this month.
The president voiced support for other policies intended to curb gun violence as well, such as stronger background checks and banning "bump stocks," which can modify rifles so they can be fired more rapidly. And he suggested there should be discussion about confining people who could pose violent threats to "mental institutions."
Trump also acknowledged that state and local governments would take a leading role in crafting policies to address gun violence, and pledged support regardless of the paths they choose. "We'll be there to help you no matter what your solution is," he said.
The meeting was held as part of the National Governors Association annual winter gathering in the nation's capital, which began Friday and ran through the weekend. According to the White House, 39 governors were expected to attend the meeting with Trump.
Earlier this month, a gunman shot 17 people to death at Marjory Stoneman Douglas High School in Parkland, Florida. The incident has ignited a new national dialog about school safety and gun laws, drawing attention from the president and governors.
Florida Gov. Rick Scott, a Republican, said during the meeting with Trump that his state is "not waiting" for the federal government to take action on the issue. "We're going to invest $500 million, and we're going to have a significant law enforcement presence at every public school in our state," he said. The governor also highlighted plans for future capital spending on Florida schools to go toward "hardening" facilities, with sheriffs offering input on investments.
Additionally, Scott said Florida would look to enable family members, mental health care providers and law enforcement officers to seek court orders to have a person's guns taken away if the person is struggling with mental illness, or threatening violence.
Nevada Gov. Brian Sandoval, a Republican who currently chairs the National Governors Association, recommended to the president that the scope of federal background checks for firearm purchases be expanded. "In my state, our background checks are much broader," he said. "When we do an FBI background check, it does not include an adjudication of mental illness. It does not include an adjudication of a domestic violence protection order, or a conviction."
Nevada experienced a mass shooting in October when a gunman in Las Vegas fired on a crowd of concert-goers from a hotel window, killing 58 people, and injuring hundreds.
Gov. Jay Inslee of Washington had a terse exchange with Trump during Monday's meeting when he pushed back against the president's preference for arming more people in schools.
"I know that you have suggested arming our teachers," said Inslee, who currently leads the Democratic Governors Association.
Trump hastened to respond. "No, no, no, not your teachers," he said.
"Arming a small portion that are very gun adept, that truly know how to handle it," the president added. "You have a gun-free zone, it's like an invitation for these very sick people to go there."
Inslee followed up by emphasizing that he'd heard from first grade teachers "that don't want to be pistol-packing."
"Educators should educate, and they should not be foisted upon this responsibility of packing heat," he said. "I just suggest we need a little less tweeting here and a little more listening."
Following Inslee's remarks, Trump called on Greg Abbott, the Republican governor of Texas, to describe a policy in his state allowing for "school marshal" programs. "We now have well over a hundred school districts in the state of Texas where teachers or other people who work in the school do carry a weapon, and are trained to be able to respond to an attack," Abbott said.
"Candidly, some school districts, they promote it," he added. "They will have signs out front, a warning sign: 'Be aware, there are armed personnel on campus,' warning anybody coming on there that, if they attempt to cause any harm, they're going to be in trouble."
Trump endorsed the program. "Essentially, what you're saying is that when a sick individual comes into that school, they can expect major trouble. Right? Major trouble," the president said. "The bullets are going to be going toward him, also. And I think that's great."
Trump brought up the topic of committing people to mental health facilities as he discussed mental illness in the context of gun violence. "In the old days, we had mental institutions. We had a lot of them, and you could nab somebody like this," he said of the Florida gunman.
"We're going to have to start talking about mental institutions," he added. "We have nothing between a prison and leaving him at his house, which we can't do anymore."
Psychiatric hospitals have a complicated legacy in America, one tainted by instances of abuse and other problems. Many were shuttered in past decades. Experts have questioned how far more mental health facilities could go toward preventing killing sprees.
Trump also said he'd met with the National Rifle Association's leaders over the weekend. He urged the governors not to be intimidated by the group, which is known for its lobbying clout.
"They're on our side. You guys, half of you are so afraid of the NRA," the president said. "There's nothing to be afraid of."