Sessions Vows to Defend Presidential Powers Against State Legal Actions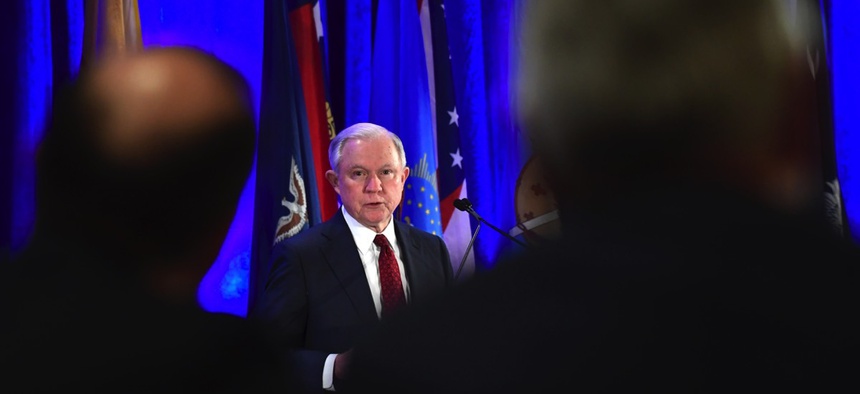 The U.S. attorney general also addressed forthcoming bump stock regulations, immigration, opioids, and 'prioritizing crime and criminal justice enforcement.'
WASHINGTON — Attorney General Jeff Sessions criticized "state court overreach" for hindering the exercise of presidential authority on everything from immigration to workplace discrimination, in his Tuesday speech to the National Association of Attorneys General.
States and cities hit the Trump administration with 20 nationwide injunctions in its first year, Sessions said, more than any president in history and after none occurred before the 1960s.
To not defend presidential powers in court would be to yield "to an excessive view of judicial superiority," the attorney general said, one that's getting in the way of his approach to law and order.
"I do recognize that our different chief executives and attorneys general have different priorities," Sessions said. "We're prioritizing crime and criminal justice enforcement."
The attorney general said the Supreme Court has already sided with his Department of Justice three times against state overreach, and he expects to win out on President Trump's travel ban.
He hoped for a "breakthrough" on immigration in Congress that would close "loopholes" in federal law, while solving the Dreamer situation, and characterized sanctuary cities as believing in "open borders, basically."
"We need to shift our policy more to an immigration flow like Canada," Sessions said. "I have long believed, and the president has articulated, that it enhances the ability to bring in more people who already speak English, who have educational levels that we can identify as likely to flourish."
Sessions further criticized the 2nd U.S. Circuit Court of Appeals for reversing Monday its previous rulings that the federal law banning sex discrimination in the workplace, Title VII, doesn't apply to LGBT employees.
"I guess maybe the judges woke up that morning and read The New York Times or something and decided their previous ruling was wrong," Sessions said.
On gun safety, the attorney general said he believed it was within DOJ's authority to put forth regulations on bump stocks, which accelerate semi-automatic rifles' rate of fire, in the aftermath of a Feb. 14 mass shooting at a Parkland, Florida high school that killed 17. He said an announcement was forthcoming.
In addition to curbing shootings, Sessions said part of his agency's focus on reducing the two-year uptick in violent crime and crime more generally involves mitigating opioid abuse and going after doctors who overprescribe such drugs. DOJ has doubled the number of FBI agents and increased prosecutors across the country handling such cases, he added, including the "largest darknet takedown in history a few months ago" of websites distributing drugs.
The new Joint Criminal Opioid Darknet Enforcement Team will be contacting state and local officials in an effort to forge partnerships combating drug abuse, the attorney general said, just as Project Safe Neighborhoods will continue working with jurisdictions to better use resources to "focus on the 'alpha' criminals."
Another area where DOJ's and states' priorities align is fighting elder abuse, which is the focus of Kansas Attorney General Derek Schmidt's NAAG presidency. Sessions boasted the "largest elder fraud takedown in American history" Thursday in partnership with states.
"We've got victims all over America. Every day people are being victimized by these sorry, no-good skunks," Sessions said. "I just despise this bunch. They're just despicable people."