Federal Spending Bill a Boon for State and Local Law Enforcement, Opioid Programs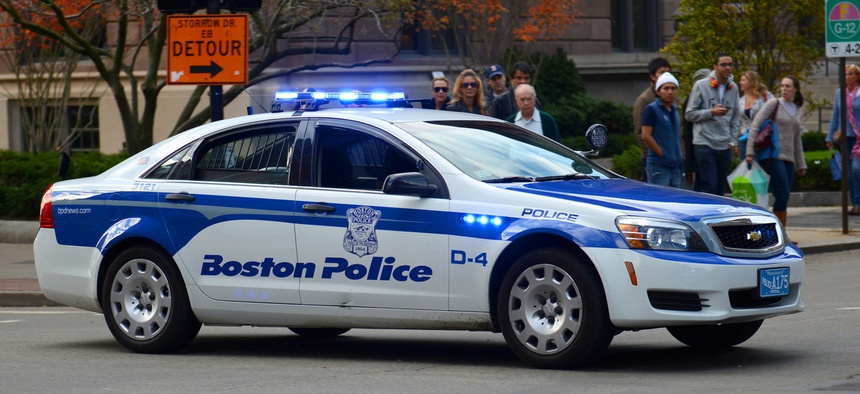 But sheriffs and police chiefs want requirements put in place that will prevent states from siphoning off much-needed funds, especially for treatment.
The federal spending bill approved by the U.S. House on Thursday and Senate early Friday morning includes $2.9 billion in state and local law enforcement grants, a $1.2 billion increase from 2017 bolstered by funding to address the opioid crisis.
Congress increased Justice Department grant funding by $299.5 million to $446.5 million in an effort to aid community response to the epidemic.
The opioid crisis and school shootings have placed law enforcement on the front lines of combating drug abuse and mental illness.
"We are pleased to see a boost in funding after years of decline," Yucel Ors, federal advocacy program director for the National League of Cities, told Route Fifty by phone. "Basically, it's a positive move to help cities tackle some of the most perplexing efforts in local communities."
A total of $330 million will go toward comprehensive opioid abuse reduction activities: $75 million for drug courts, $30 million for mental health courts, $30 million for state prisoners' treatment, $20 million for veterans treatment courts, $30 million for a prescription drug monitoring program, and $145 million for a comprehensive opioid abuse program. The courts in particular signal an increased emphasis on diverting people with mental illnesses and substance abuse issues away from the criminal justice system and into treatment—thereby reducing recidivism, Ors said.
He called the opioid funding an "initial investment" but stressed more money and resources are needed to address heroin, fentanyl and carfentanil abuse in cities, particularly those in Appalachia and rural America with fewer resources.
National Sheriffs' Association Executive Director Jonathan Thompson said the spending increase was a sign the federal government is addressing the epidemic in a "methodical, progressive way."
President Trump's budget proposed a nearly 50 percent cut to community oriented policing grants, but the spending bill increases them to $275.5 million—up from $221.5 million in 2017. That includes $225.5 million for hiring and rehiring additional officers, $30 million for tribal law enforcement and its anti-methamphetamine and opioid efforts, $10 million for community policing, $8 million for jurisdictions with high seizure of meth chemicals, and $32 million for jurisdictions with high rates of heroin- and opioid-related hospital admissions among other programs.
Even the Obama administration floated eliminating the COPS program, Ors said, or combining it with the Byrne Memorial Justice Assistance Grant program, which also saw its funding increase by $19.5 million to $415.5 million. Byrne JAG funding in 2018 includes $5 million for evidence-based policing, $2.5 million for police training on responding to people with mental illness and developmental disabilities, and $20 million for competitive, evidence-based programs reducing gun crime and gang violence.
More than $250 million in 2017 Byrne JAG funds are being withheld from localities, after Chicago sued DOJ for withholding public safety grants on the grounds it is a "sanctuary city" refusing to cooperate with federal immigration enforcement. That there is no mention of withholding funding from sanctuary cities in the spending bill is a positive sign, Ors said, but cities will continue to resist DOJ's "commandeering of local law enforcement."
Awarding $100,000 to a sheriff's department might not seem like a lot of money, but it "might mean one vehicle and one deputy that might mean the difference between a safe community and an at-risk community," Thompson said.
Where the NLC and NSA agree is that more needs to be done to ensure the spending bill funding makes its way to localities, especially for local treatment programs, instead of state governments holding onto the money.
"It's important there are requirements to push down money to the local level," Ors said.
Local communities know how best to spend the money, Thompson agreed.
"It is governors deciding what they think the problem should be, rather than the chiefs and the sheriffs," Thompson said. "It's an unfair tax on the program, when you see 20 percent clipped off the top for state administrative agencies."
This article has been updated to note the Senate's passage of the spending legislation early Friday morning.
Correction: A previous version of this article said Byrne JAG funds are being withheld "per court order". The injunction in the Chicago case doesn't prevent DOJ from distributing the funds, just distributing them on condition of compliance with notice and access conditions the agency continues to defend.